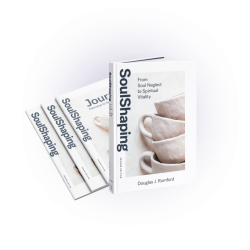 Doug Rumford's SoulShaping presents a readily accessible approach to the spiritual practices that have nurtured God's people across the centuries.
The SoulShaping (Second Edition) book combined with the SoulShaping Journal provide clear self-guided teaching that is Christ-centered, biblically based, and practical. They guide readers to:
Diagnose

their spiritual condition by assessing the primary Symptoms of Soul Neglect.

Develop their personal vision for spiritual vitality.
Discover God's pathways for spiritual vitality with the Five Vital Signs of Spiritual Health and complementary spiritual disciplines for each.
Discern their personal plan for spiritual vitality tailored to the season in their spiritual life and soul condition.
Devote themselves to spiritual vitality.
Use SoulShaping as a primary resource on your spiritual journey.
The SoulShaping
Experience
In addition to the personal study of SoulShaping as an individual, there can be great benefit in small groups, congregations, and organizations going through SoulShaping together.
The SoulShaping Experience is presented as a 10-week series that equips God's people to be fully alive in Christ by bridging the gap between a vague knowledge of spirituality and a vibrant experience of God's presence, perspective, pace, power, and purpose.
In addition to learning the practice of spiritual disciplines, participants experience the life-altering results those disciplines produce so they can integrate spiritual vitality into their daily lives.